This shelter dog ignored people. Then something crazy happened.
In which Jill explains how Outta the Cage got its name.
When it comes to euthanasia, July is a literal bloodbath for shelter dogs. June is the month that precedes animal rescue's busiest time of the year: the July 4th deluge of animals entering shelters. Many of these animals will die in the shelter. This year, we decided to rev up our networking and rescue work.
I visited Baldwin Park shelter five times between early June and early July. Each time, I stopped at the kennel of a dog named Whitey, a black-and-white pit mix with the eyes and paws of a hound dog. I was immediately drawn to him since he looked like a younger version of our late dog, Frosty.
Unlike Frosty, Whitey wasn't social. When I cooed at him through the bars of his kennel, he looked at me with that side eye that those of us in rescue know too well. It's dog language for: "Not sure about you yet, sistah."
On my third visit, he was more curious, but he still refused to approach for treats. On my fourth visit, I noticed him curled into a tight ball in his kennel, barely acknowledging my attempts to engage him. We decided to get him out into the play yard for a video.
Whitey rose and left his kennel ambivalently at first. But he picked up speed when he realized he was being led someplace outdoors. Whitey is a strong three year old, so two volunteers had to leash and guide him into the play yard. After that, we figured he'd sniff around and pee and maybe let us give him a snack.
At first, Whitey did exactly that. He ignored us as he marked all four corners of the play yard, head down, as if performing an obligatory ritual. It's what all dogs do when they've been kenneled for a while, and we weren't surprised.
Then something crazy happened.
Whitey began to play. With a running start, he leapt up on all fours, airborne, and bounced around the play yard. Making eye contact with each of us, Whitey did an ebullient dance around the yard, picking up toys and daring us to chase him. He grabbed an empty water bowl and began tossing it in the air, and flipping it over with his paws as we cheered him on. Whitey, out of the cage, had become a different dog!
See for yourself: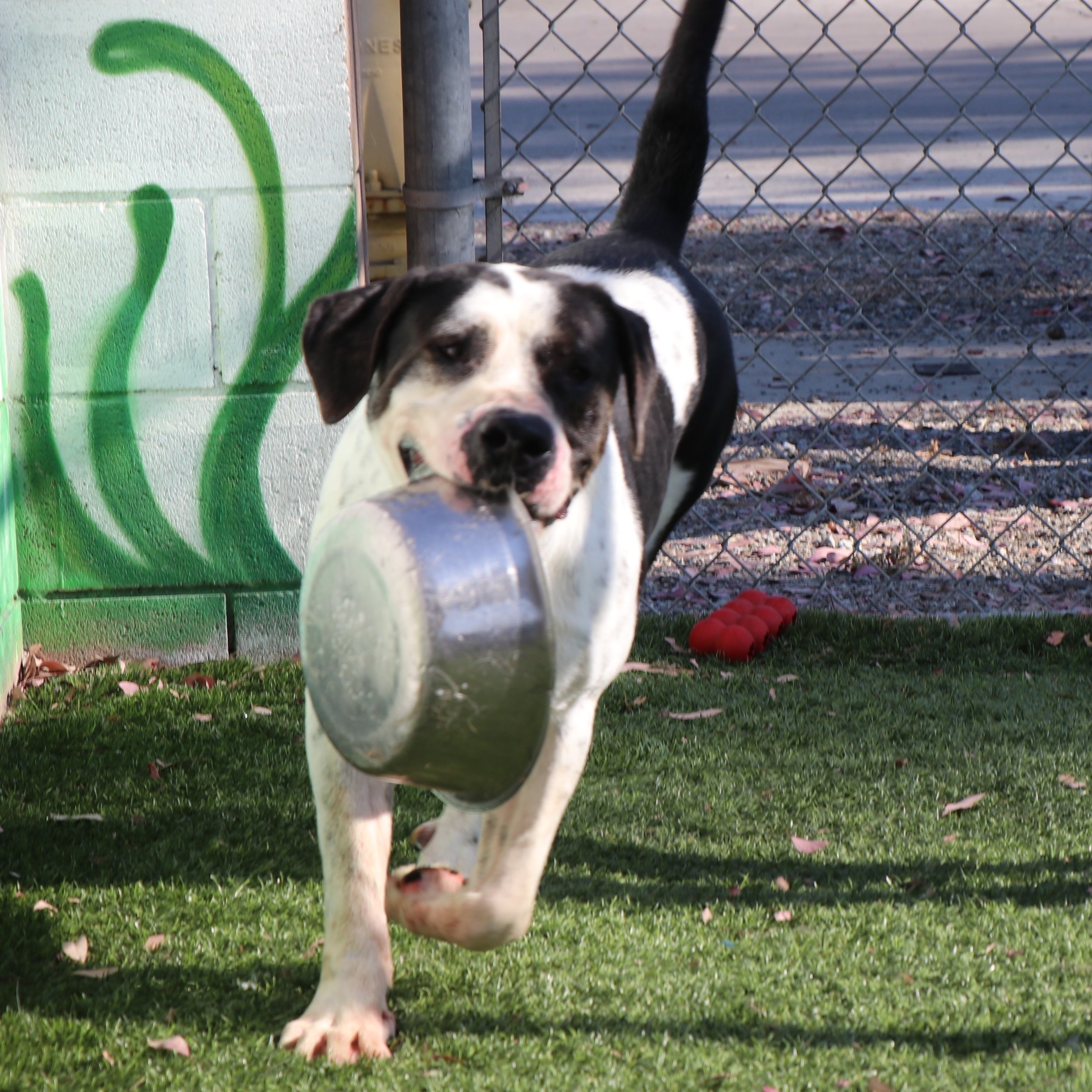 In these photos, you see the real Whitey. And you'll understand why we call our rescue Outta the Cage. Dogs are simply not themselves when confined to kennels, watching strangers come and go amidst the alien noises and smells of the shelter. But they become themselves again after a few minutes out of their cages.
We see it all the time. The bulldog coughing in his kennel while laying on urine-soaked cement. The dachshund-corgi mix with lacerations on his paws who growls when you offer a treat. The Staffordshire terriers, the tips of their tails crusted with blood, wondering if you're one of the nice ones, hoping for a head scratch through the bars. Or the gray and white pit bull spinning around and around in his kennel as if possessed, pronounced "too far gone" by the shelter's behaviorist and listed for euthanasia.
Each of these dogs managed to overcome the odds. They're all in families now. And none of them is doing what they did in the shelter. They're different dogs. Except, they're not. Being in the shelter simply put their spirits on hold.
Sadly, Whitey is still at the shelter. He's been there since March, and it's now July. Maybe someone will notice him, take him home and rename him. Regardless of his new name, it would be delightful to see Whitey become Whitey again. The first step is getting him outta the cage.
Whitey is at the Baldwin Park Animal Care Center - 4275 Elton St, Baldwin Park, CA 91706. The shelter is open Monday - Thursday from 12 - 7PM and Friday - Sunday from 10AM - 5PM. The phone number is (626) 962-3577.